Here it is Thursday already and the weekly wrap-up idea kind of went to pot this past week, BUT... I have an excellent excuse as to why!
You see, I was having a baby-moon with my most amazing spouse. In a most amazing place. And I met some amazing people. And I was not cranky, or forgetful, or upset or anything but laughy and giggly the entire time.
Let me show you the place! Behold, this is
Shirakaba
:
Originally we were thinking of going to Savannah, GA as we'd both wanted to see the city when I suddenly realized I was going to be 6 months pregnant and willfully inserting myself in a VERY hot and VERY humid environment.
That was not a very good idea. So I changed it.
Instead, I Googled "ryokan", figuring someone had been clever enough to recreate one here in the US. Lo and behold, the only one within driving distance was Shirakaba!
Now, I could (and probably should) dedicate an entire post just to it and its awesomeness, and I probably will later. The people that ran the place were so damn awesome that I would love to get them some good press. But there's this entire trip I wouldn't be discussing. And the knitting I worked on. Or the photo I took. And it was all just amazing! So let's focus on that.
Shirakaba is in the Berkshires on the Massachusetts side, and is apparently rather popular in the winter months, but not so very much in the summer. Yay for us, at least partially, had there not been a heatwave that week.
We had the great luck of getting the entire place to ourselves for 5 days, meaning we could come and go with little chance of disturbing anybody. On top of that, one of the owners was super-psyched that I was there and pregnant. She even embroidered several gifts for the baby. Behold! The awesome hoody-towel!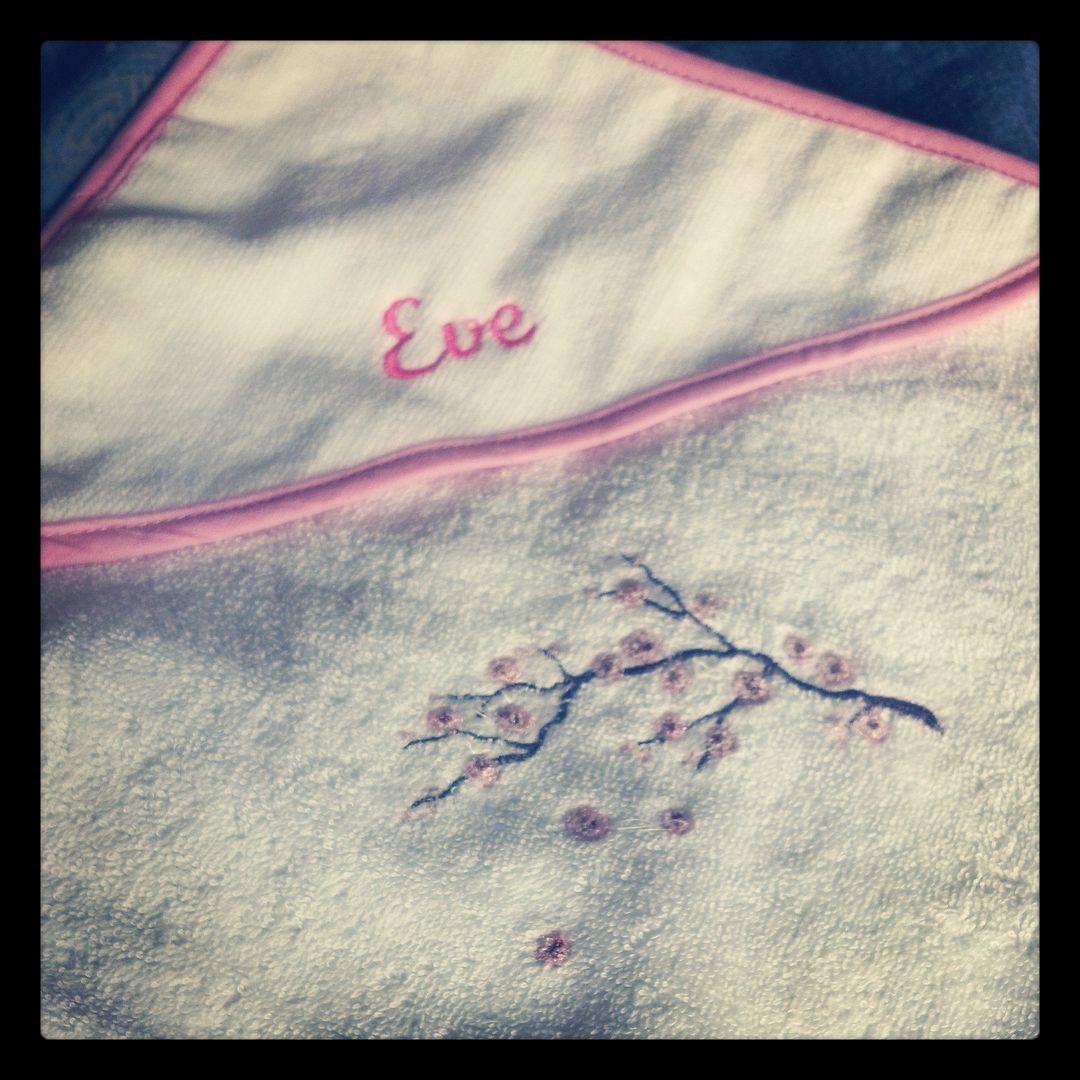 She was sweet enough to go look for a cherry blossom embroidery pattern specifically when I mentioned it would be lovely. This is currently folded up in the nursery awaiting Ms. Eve's birth.
Because it was more on the way there than anywhere else we would normally travel, I talked Bob in to doing a quick dogleg in the trip before we got to the guest house that let us stop at
WEBS
. This is awesome because WEBS sells yarn. Lotsa yarn. And lotsa things to make yarn and lotsa things to do with the yarn. Everything from spinning wheels and spindles to looms, knitting needles, crochet hooks and lucets. Just about anything you can think about doing with fibers, they have there.
And yes, I fully realize I'm treading on old-lady territory getting excited about yarns and things, but screw that. Because I can make super awesome sweaters and scarves and BABY SWEATERS from that shizz and I can have super unique mittens and hats while the rest of y'all stumble to Target come November. Nyah. :P
Anyway, this is the front of the store:
Very unassuming, as well as its location. They've basically converted a giant warehouse in to a warehouse/retail store for people to come in. I should've taken some pictures inside, except honestly it just looks like another yarn store.
I DID, however, take a picture of the warehouse. There was a lot of reorganizing going on so a ton of people were working and I felt weird and espionage-y snapping photos, BUT... this is what the bulky yarn aisle of the warehouse looks like. There are 15 other rows: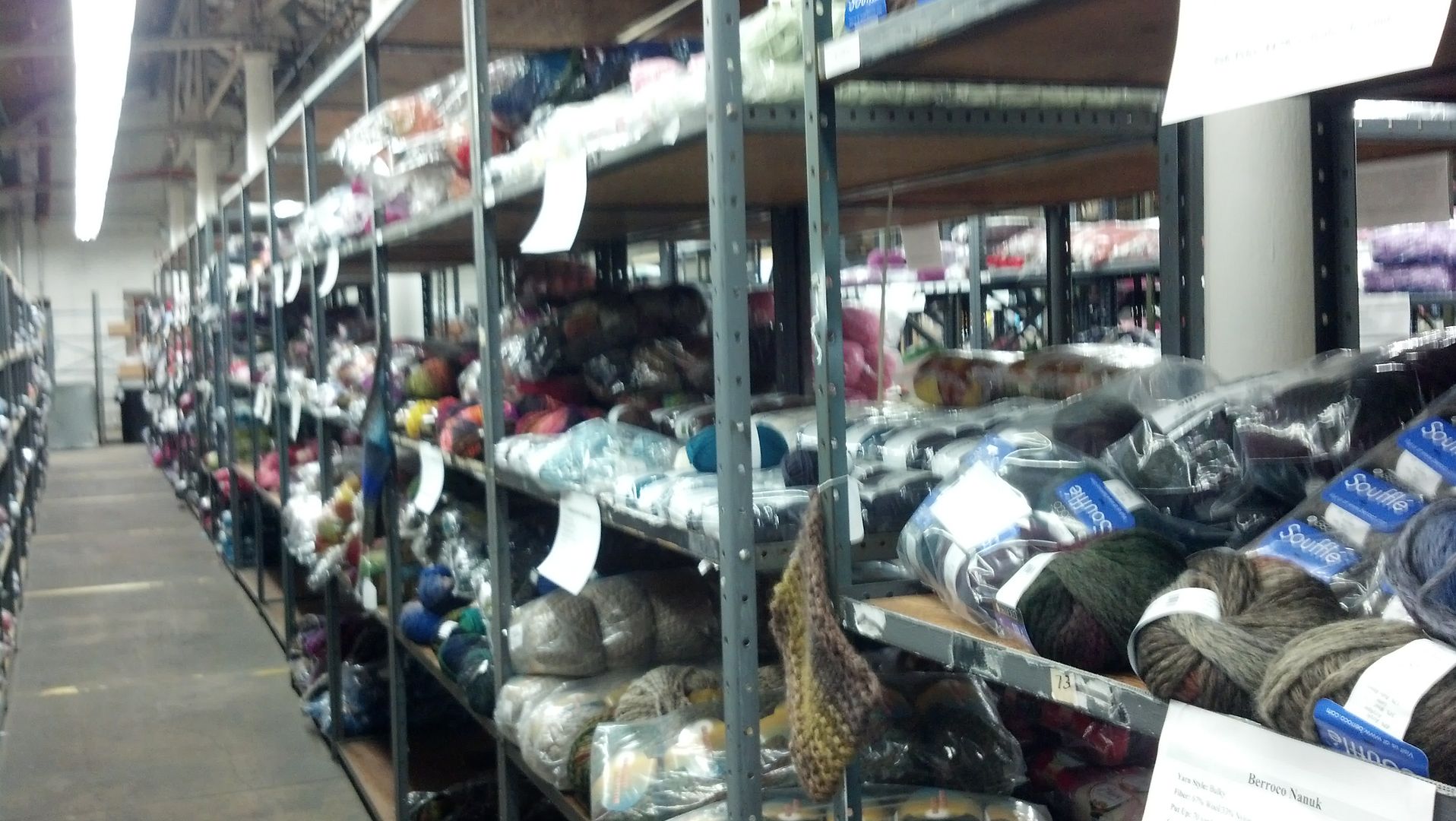 Impressive, non? I sorta kinda maybe went on a yarn-petting spree while I was there.
Also, BE PROUD OF ME. I went in to get just ONE type of yarn, and I left JUST WITH THAT ONE TYPE OF YARN. I wanted to get sooo many other things, but I managed to stop myself!
So we moseyed on from there to Shirakaba, where they prepared specialty ice cream for us, as well as cookies, and we had us a delicious 6-course Japanese meal. We got to nosh on it while in a traditional Japanese tatami-mat room, wearing gorgeous and comfy yukata.
I have a few dozen pictures from the meal, but I'll spare you guys that and just show the sukiyaki. The rest of the food shall be saved for another post!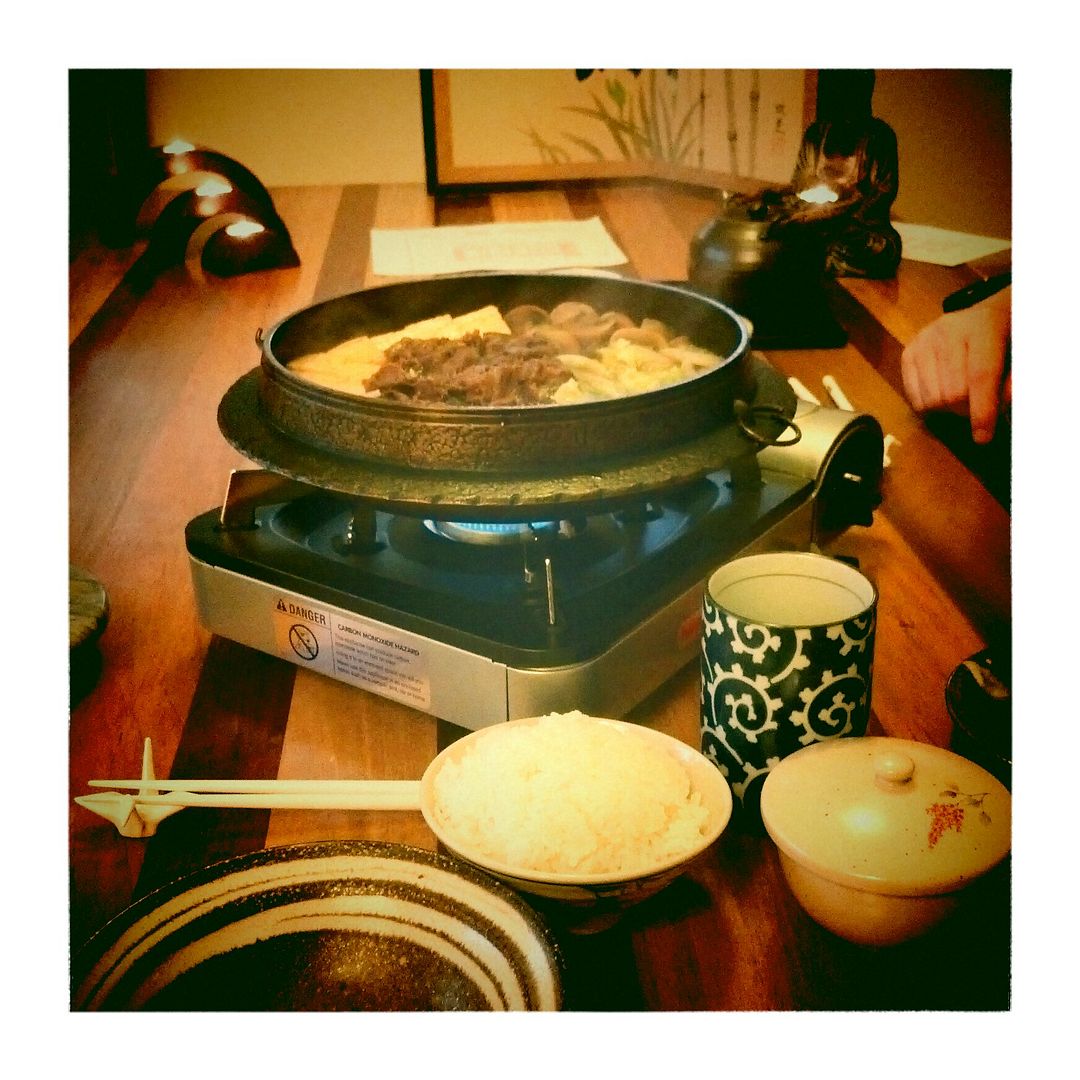 Does that not look amazing? It tasted fabulous, and we were so full from the previous 4 courses that we ended up saving the leftovers for another night!
We decided to spend a warm evening outside in the hot tub just talking about all we wanted to do, and I just let the water roll over me and loosen up my seriously tight shoulders and back, which have been bothering me for quite a while now. Had we been able to, I think we would've had glasses of wine and made a VERY late evening of things.
For our Thursday it was VERY hot, as in 94 degrees in the shade. I was hesitant to go outside because any heat makes me instantly nauseous these days, but I also didn't want to waste an entire day hiding in our room with the air conditioning.
So Bob said look, let's go to one of the small towns and see X, and if it gets too hot we'll come home.
And I couldn't argue with that because it meant all I had to do was feel a little sick, and we were out of there. Sold.
We ended up heading in to Wiliamstown, about 10 minutes down the road, and stopping in one of those super-awesome toy shops that sell lots of things like science kits and ant farms and art projects and puzzle books... we ended up with 2 books and a wooden rattle for little Evie, some puzzle books for Bob, and a copy of the Tao of Pooh. I'd read it once when I was 13, and I have since decided that I just wasn't old enough to fully grasp what they were shooting at even as much as I like the idea of Taoism. So I thought I'd try to re-read it over the summer.
Needless to say, we had a good time, and I got excited to see that they still sell chemistry sets, butterfly domes, and snap-circuits to teach kids how to put together things for electronics. If Eve even shows the faintest interest in ANY of those things, she will get them.
I don't honestly know what we'll do if we don't get a seriously nerdy, science-y kid, y'all. We're kind of banking on it.
ANYWAY.
After that we wandered around town a bit, I got incredibly hot very quickly, and we ended up seeking shelter for a late lunch in a place called the Purple Pub, down a back alley. It was just a little place with a bar and several TVs tuned in to sports channels, but they were serving lobster rolls and that was suddenly very attractive. We hunkered down and cooled off there, then made a dash for the car and came back to the guest house. Once there we did some serious napping, some cleaning up, and some dressing up. Then we were out the door and down the road to the '6 House Pub (yup, more pubs) for dinner. Which was pretty good, despite taking forever.
Back to the guest house and we decided to try out the pool, since I was hoping to relax my back and shoulders even MORE so... when one of the owners advised that they could turn the lights out, turn on the color-changing LCD in the pool, and we could PUT ON GLOW BRACELETS AND GO SWIMMING. They had already put glow bracelets in the room for this very eventuality: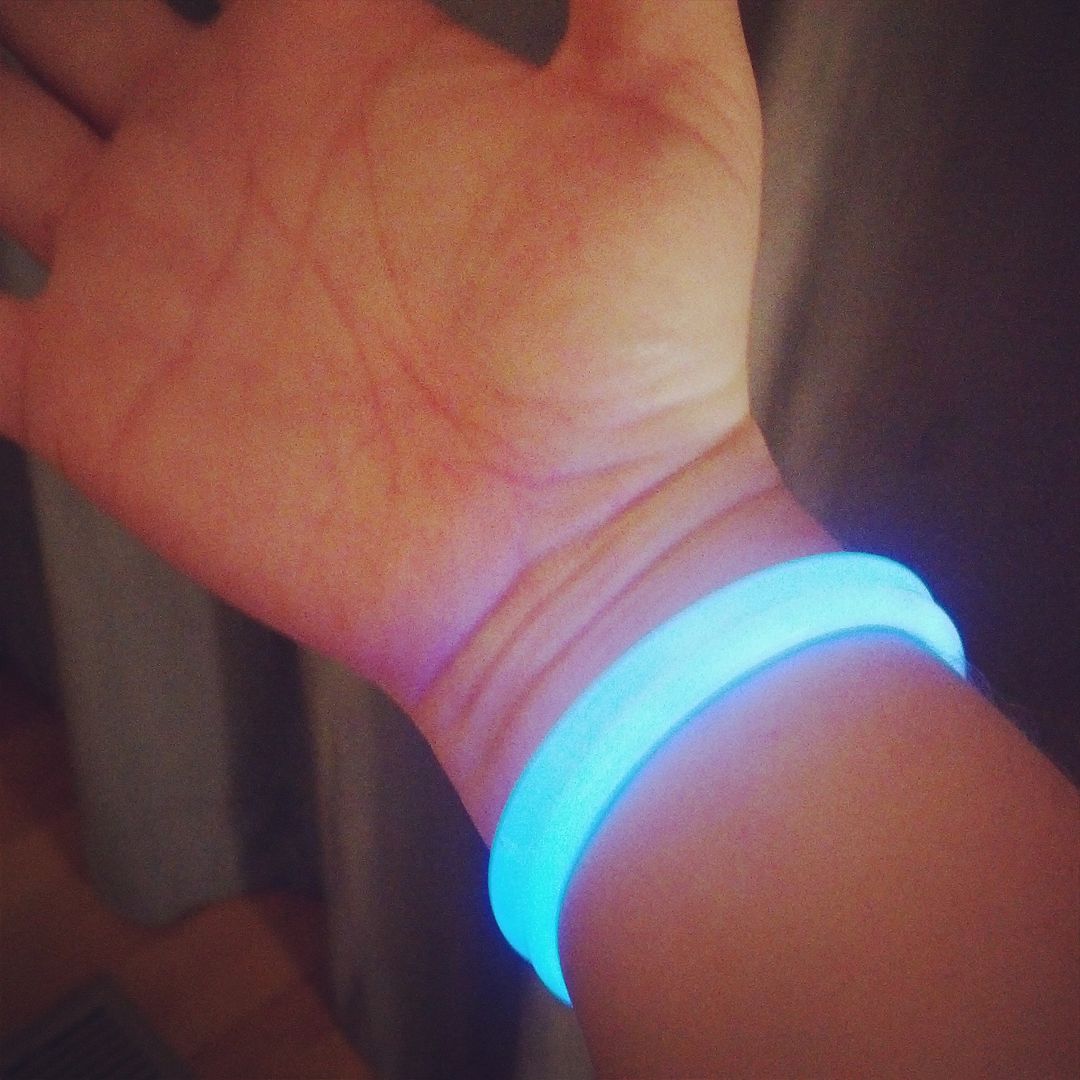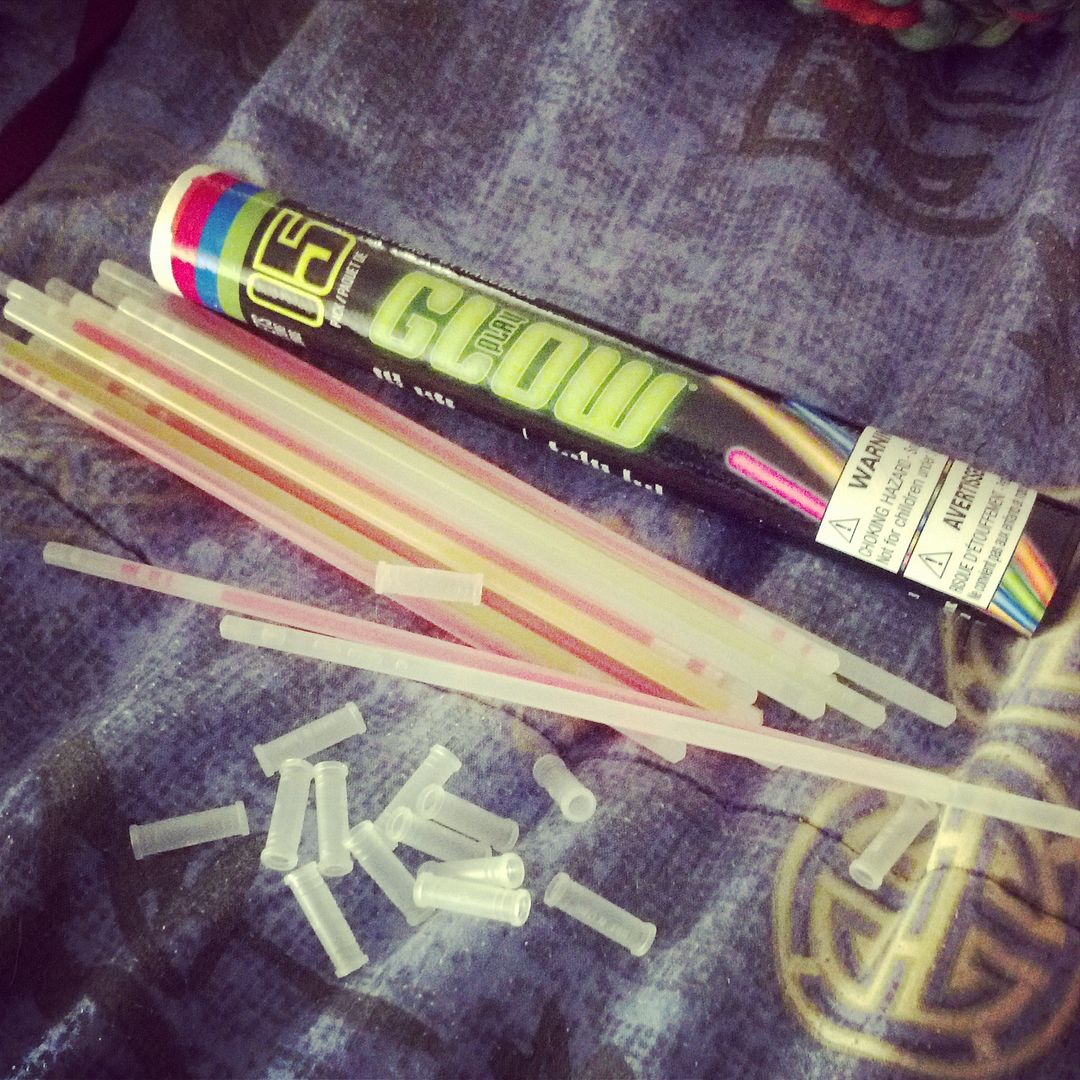 This was a super-popular idea with me, and I made sure both Bob and I were properly glow-ified before we hopped in the water. We spent about an hour playing around and talking again before once more crashing.
Friday rolled in and since it was going to be the hottest day, we decided that would be the day to hit up
MASS MoCA
(aka the Massachusetts Museum of Contemporary Art.) since they would probably have the AC running. This was one of only two things I had absolutely decided we had to do when we got to the Berkshires, so I was especially excited. I was even more so when I read about one of the exhibits,
Xu Bing's Phoenix
. It was fascinating to me to see two ENORMOUS sculptures comprised entirely of discarded construction equipment.
Accordingly, I took a few billion photos and I could link all of them here but... I think I'll just include my two favorites for now and set up a small album for later for people to live vicariously through.
A double high five next to the second Phoenix... FTW!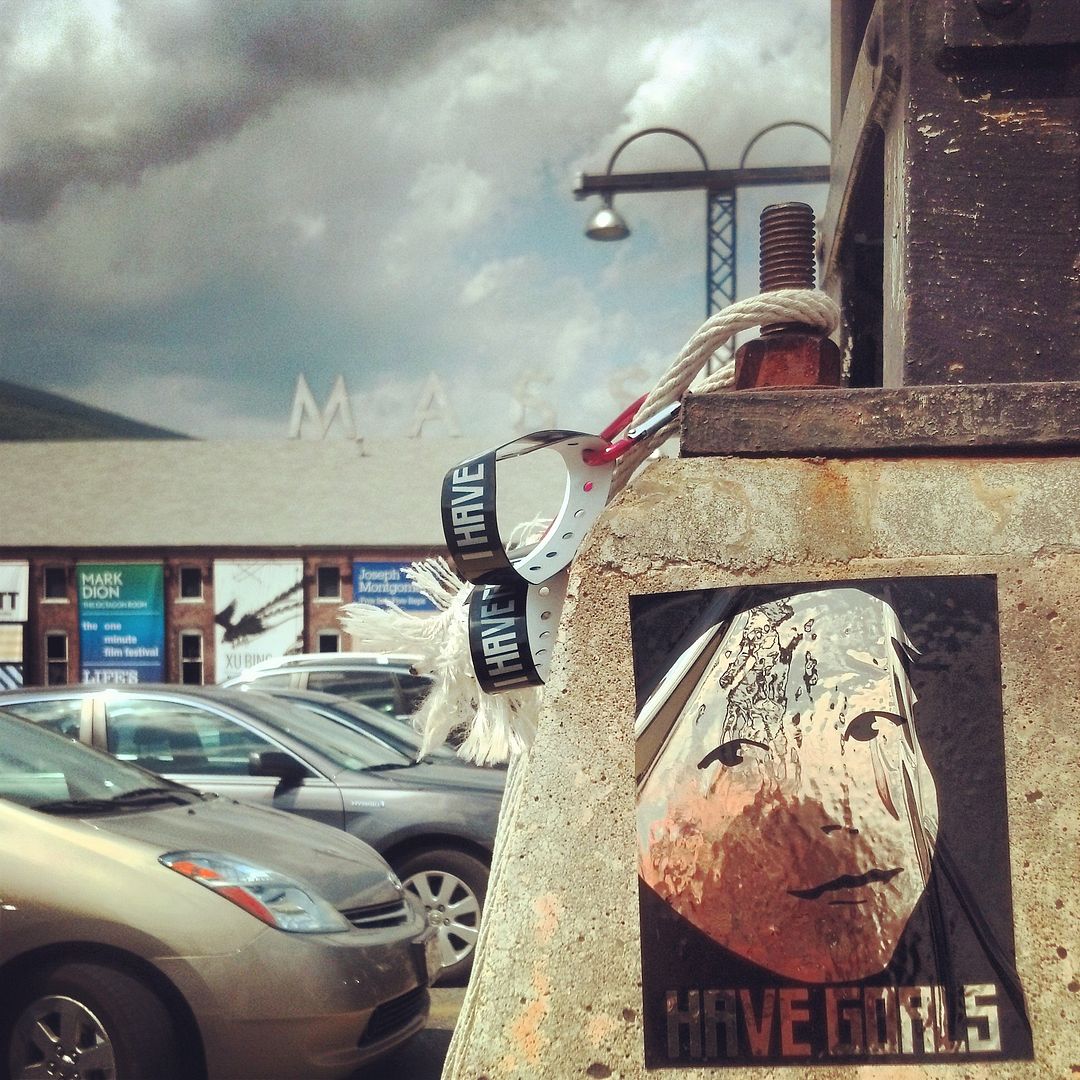 Well how about that? Have Goals! How'd that get there? >.>
At one point I got a chance to really test my mettle and decided to walk UNDER both phoenixes to see the full details of the construction. I noticed people were walking all the way around them, or up to the side and dipping down to look underneath... and I decided I was just going to walk between the legs, under the belly, and see what was up. I'm glad I did, because the colors underneath were insanely bright, and it brought a whole new perspective to the sculpture that you wouldn't have seen gazing in from the side. I was rather proud of myself.
There was some other stuff going on, like a guy randomly wandering around playing a ukulele out in the blazing hot parking lot with a straw fedora on (heavy hipster presence here, go figure) and two kids walking around with Minecraft swords and picks who didn't hit each other or anything else. Well done, parents!
I did love it there, but we didn't take a few things in to account; first, that the museum was inside refurbished industrial buildings and therefore there was no modern AC and two, that it would be as busy as it was, so I was waddling along with the semi-sweats among giant towering walls set up in just such a way as to block absolutely all airflow within the gallery while surrounded by mostly very slow-moving elderly people. It became a necessary mini-game to gauge when to juke around them to get through a doorway so I could get a cool blast of air movement before being stuck behind them and throwing up on the gallery floor.
Either way, I really enjoyed seeing everything, including some of the really obviously trying-too-hard modern stuff they had in some of the side galleries. I would totally go back again once they turn over exhibits and it was a bit cooler, because we didn't get to a lot of the outlying buildings courtesy of the heat.
Meanwhile I had been working with the yarn I bought at Webs to start creating a "kangaroo" style sweater, and I just wanted to include that because I'm fairly proud to have just decided to just go with it once I'd picked out the pattern and carpe that diem. It's MUCH further along now, up to the neck, but this was the start of it:
Those are size 19 needles, y'all. There's no way to appreciate the chunkiness.








The evening was spent eating our sukiyaki leftovers and heading out to the gazebo on Shirakaba's property that overlooks the valley below. We did just a touch of stargazing, and a lot of relaxed talking about what we'd seen, how much we'd like to come back, and things we wanted to do once we got home. When the lightning from an oncoming storm started to dance in the sky, we broke away and went back to our room to crash for the evening.
Saturday ended up equally awesome, though I was debating driving out to Vermont when it might be hot still... it was blessedly cool, and by blessedly cool I mean it dropped down to 86 and there was a breeze.
We had discovered there was an alpaca farm just over the border that advertised tours and a little shop to get stuff from. I had decided I wasn't going to make Bob go because alpaca and yarn is pretty thoroughly MY thing and I'd already made him sit through an hour of me browsing through WEBS. Bob declared he absolutely HAD to go see alpacas, though, and that he was excited to try it, so we hopped in to the car and drove to
Shaftsbury Alpaca Farm
in Vermont.
At first, things were okay... it was beautiful and scenic and we were laughing and joking and not really paying attention too much because we were under the impression it was a straight shot to this place. But then we tried to follow the tourist map and the roads listed on it were not the same as those we actually saw. So we got lost.
Then we came back and tried to input the address of the place, and our new GPS obliged us with a tour of Bennington, VT that included insisting we drive through a dead end with a stone wall to get to the cul-de-sac on the other side, and noting that all of the data input for the area included dirt roads and footpaths as surface streets for some reason.
We ended up driving down a very shallow set of stairs on a gravel footpath and across a footbridge over a creek just to get closer to somewhere that would stick us on a main road again. There was nothing to do but laugh because it was so ridiculous, and thanks to Bob having worked at Navteq he knew exactly what was wrong. There was no way to fix it. So we improvised.
25 minutes later we were back on a main highway, cruising down 67 with very little issue. We found the alpaca farm and there met a woman who has so much character, if you cut her in half she'd survive.
She was originally from the Bronx, fell in love with alpacas about a decade ago, and moved out to Vermont to raise them on her little farm. She also had a firm dislike for the Dutch and multiple stories about her ex-husband. But best of all, she talked non-stop about all of her alpacas as she let them move from pen to pen, and allowed us to pet them. Suuuuper soft bunny-horses for the win!
Lady alpaca makin' sexy-face at my man.




They were just as soft as I had hoped, and while we were moving to another section to see the boy alpacas, another car load of people showed up and made us feel far less like we were imposing suddenly.
I snagged some black roving that actually came from her black alpacas, some natural white yarn spun from her personal alpacas, and a scarf made from baby alpaca to give to my Mom, because it had a beautiful woven pattern and I knew she would really dig it.
On the way back we found a local place to grab food courtesy of a tip from the alpaca farmer and I had one of the best cheeseburgers I'd had in memorable history.
Having made it home we crashed for just a bit, then got all dudded up and headed to the second highlight of the trip -
Tanglewood
!
I'd snagged tickets for us for a performance of Wagner, seeing as he's a very well known composer thanks to Bugs Bunny. I'd also heard Bob talk about Tanglewood, as he'd had a roommate in college who'd composed music that was performed here. I thought it would be neat to give him a chance to finally see the place. We also bought a picnic lunch with waaaay too much good food and got there early to picnic and listen.
I didn't realize that we were only listening to the Third act of Die Walkure, and that it was the complete opera and not just the orchestra playing the music, but everything turned out just fine anyway. We had a great time, and it was neat to see everybody bringing blankets and chairs and crashing out on the lawn outside the amphitheater with picnic dinners to listen to the music.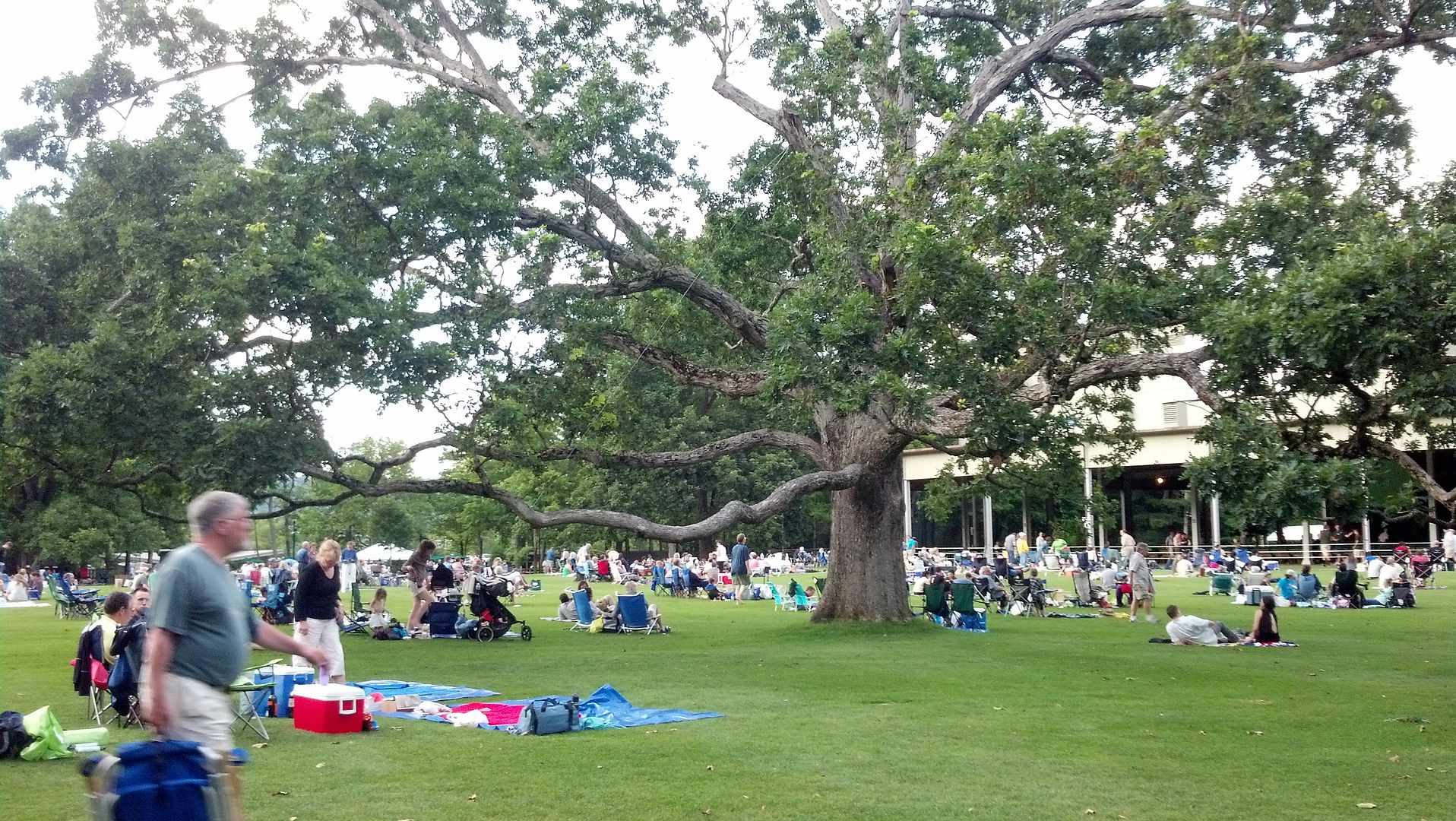 We even saw a guy in sweats and sneakers with a fully lit candelabra ready to go for the evening.
The cross-section of people was actually really cool. Lots of hipsters, lots of yuppies, but also a lot of people who came with children and older folks. Most of the older folks had purchased seats inside the "Shed", where the music was performed. The younger, more flexible ones were out on the lawn with their chairs. Also? More bottles of wine than I've seen in a loooong time. I even saw two people with 6 bottles of wine and a teensy weensy plate of strawberries and cheese. So yeah... my kind of crowd.
By the time we got home we were exhausted but blissfully happy and crashed accordingly.
On the way home we took an entirely different route and stopped by to say hi to my Mom and drop off her gift.
This is one of the best vacations I've ever taken. It was romantic, it was comfortable, there wasn't pressure to run around a lot, and there were lots of opportunity to laugh and joke around. The food was pretty much always awesome, and we got to explore lots of new stuff. We also firmly established that it was a place we wanted to go back to whenever we next got the chance.
I know it probably won't ever be as cool as the first time with all the discovery and excitement of just the two of us exploring, but I'm glad to know of such a cool place we could go back to if we needed in the future, after Ms. Evie is born.