Well, I tried yesterday to put together something that was bento-esque for Bob, but really it didn't come together too well. So last night I went all out and decided to make do with what I had, fashioning two bento meals. One more masculine and arranged, artfully done and with lots of very healthy things. And then there was mine. And you KNOW... you
know
... that I used the bento box I got from the trip to Japan. Oh yes you do.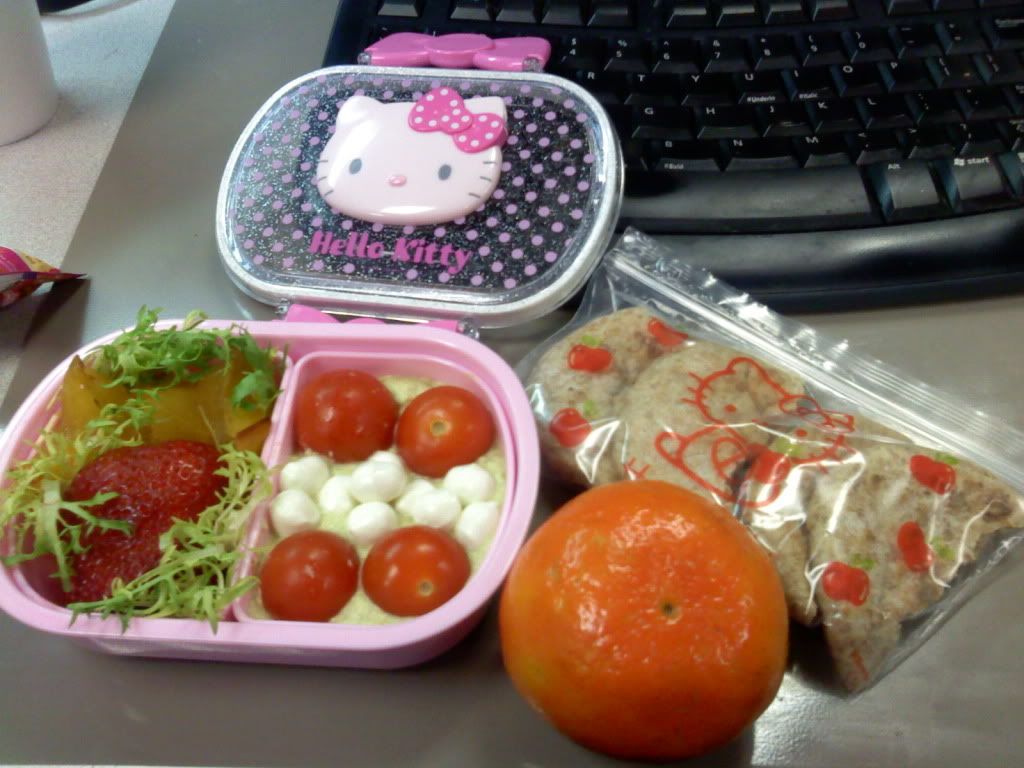 The left side is a giant strawberry backed by two slices of carambola that I'd had resting in orange juice to keep them from oxidizing. For those not familiar with the term carambola;
it's also called star fruit
. The whole thing is decorated by some frisee lettuce that is also edible and I later found a way to utilize quite nicely.
The right hand side had edamame hummus with 4 cherry tomatoes and a small army of pearlini mozzarella balls.
Mom was nice enough to surprise me with a set of Hello Kitty snack bags that worked well carrying over the theme and held 2 whole wheat mini-pitas, torn in half to make 4 pieces. I also had a clementine orange that I was counting as "dessert" mostly because I forgot to grab some of my growing collection of Japanese candy to put in there.
I had originally intended to just scoop up the hummus with the pita halves and eat it that way, but I quickly realized that I would be missing out on a major opportunity. I could split open those mini pitas and load them up, and I would have four sandwiches of cute and adorable stature.
So I did it. Thusly.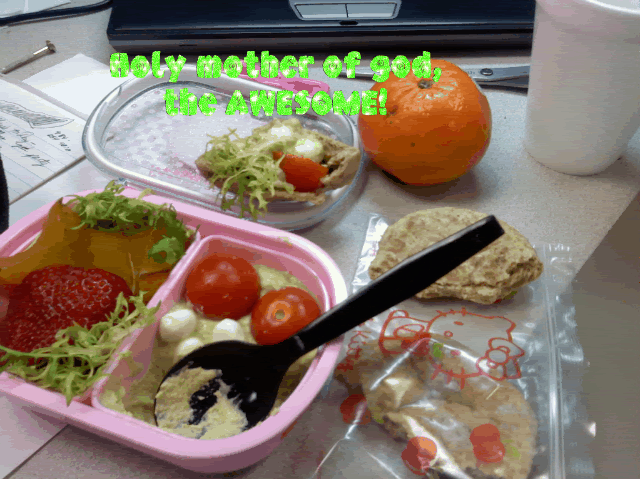 Do you dig that sparkly font as much as I do? I thought it was the only way to really convey how epic the entire experience was, the dawning realization, etc.
It was cute, it was fun putting my own meal together, and I loved that it was all vegetarian and all healthy for me! I got to try star fruit, which I'd never had before, and eat a meal that was 80% vegetables.
I will post Bob's illustrious concoction later, as those were taken with the digital camera and I was too forgetful to upload them. Needless to say, I'm rather proud of all of these, and am now firmly in the camp of "people who take pictures of their lunch" as they are sometimes mocked online.
All you haters out there can bite me. This was
FUN
. FUN! Anything that can make preparing and eating it fun is totally worth it.
Just wait until you see my Jizo eggs and my recreation of Fushimi Inari out of carrot sticks. No. I'm not kidding. It will happen.