I present to you my handiwork: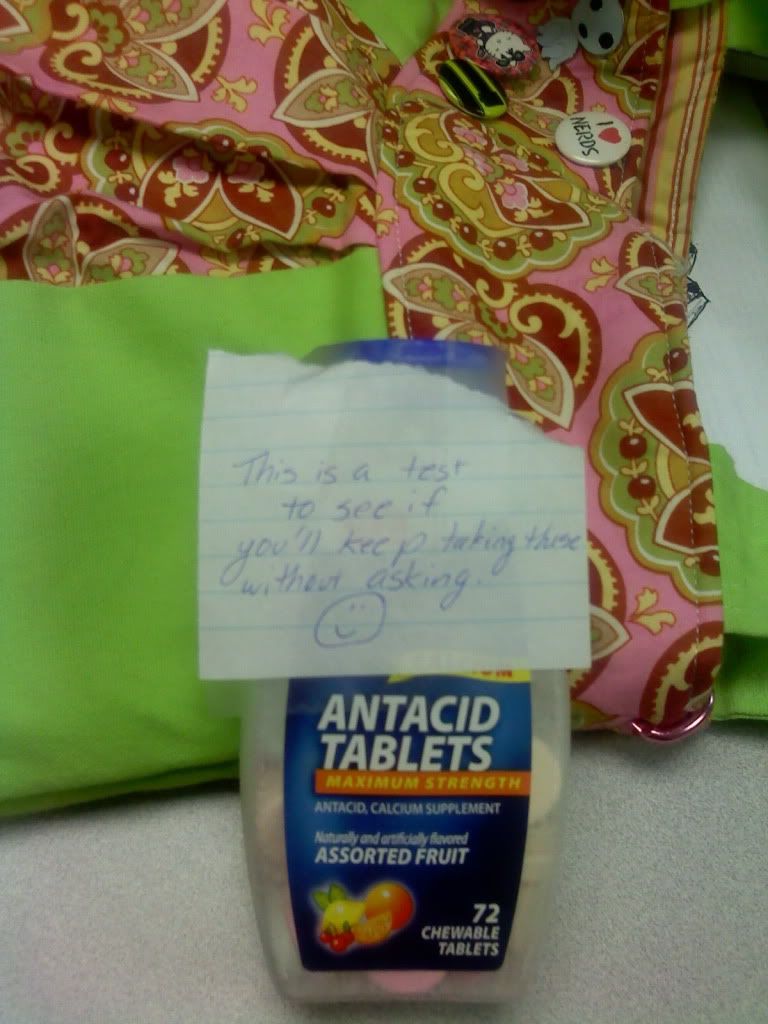 This came after realizing that someone had been taking them and had not even so much as bothered to ask if it were okay to do so. One of my coworkers mentioned having very bad heartburn and I thought it was unusual to share such a detail...until I looked over at the jar of antacids I'd brought to work with me a while back before I figured out the coffee was the source of the problem. And noted it was halfway empty.
I then decided that it was incredibly rude to simply take something from somewhere else (revisitng a moment from college when I discovered that the coffee I was happily getting ready to brew had been completely used up by a room mate who didn't even replace the shit) and sprang in to action.
What you can't really see is the fine tape-wrapping job I did on the lid. It's taped to the plastic bottle by several strips and there is tape wound around the top of it. In order to get in to it now they will need to employ scissors and risk my ire. We shall see if that happens, or they actually ask.
And yes, it absolutely qualifies for the passive-aggressive notes website, but the guy who's probably using them is across the freaking building and had no reason to be over here. Ever. Which means he's been making a bee line to my cubicle every night after I go home to make use of medication he's too cheap to buy. He's the networking engineer, so I know he's making more. It's no excuse and it's fucking creepy.
Aside from that?
Utterly nothing else of note has occured this week.
I am prone to falling asleep at work because of the lack of stimulus. It sucks.
Also, I decided today I would start collecting Hello Kitty cell phone straps. They're small and inexpensive, yet utterly adorable. I can just keep them in a shoebox and mumble about them when I hit old age. This seems like a good plan to me.